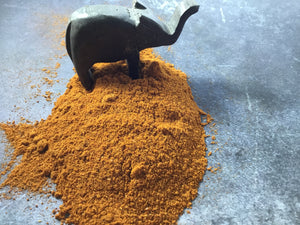 This house blend is BASIC. Three ingredients: PAPRIKA, TURMERIC & CUMIN. It's the starter kit for curries. Having it on hand can add sparkle and pizzazz to many worldly dishes or the beginnings of a great homemade curry. 

Grab this when you want to roast some veggies!
2 tsp basic blend, half a teaspoon each of black pepper, salt & sugar, touch of cinnamon and a pinch of cayenne. Mix with 1/8 Cup (or more) of olive oil or butter. Drizzle over cut veggies (cauliflower, brussel sprouts, carrots etc.) in a bowl and coat evenly. Single layer on baking sheet with parchment paper and bake @450 degrees for 25-30 minutes.