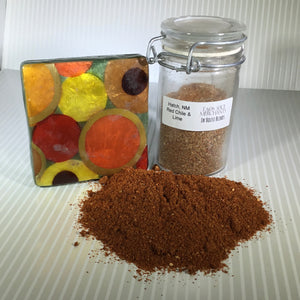 A Taos Spice Merchants that is a must-have for those who love Hatch Chiles!
We've combined them with *lime,*garlic,*onion,*cumin,*coriander, kosher sea salt and sweet onion sugar.   *Organic
Great with fajitas, bean dishes or other Southwest entrees.  It also pairs well with chicken, fish and especially shrimp. Sprinkle some on your baked potato or fries!  But, I have found that this seasoning shines with fruit; watermelon, mango, papaya, coconut...even cucumber.