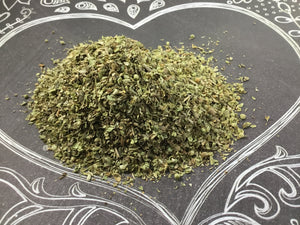 Mediterranean Oregano is a pungent herb native to that region. It is an ancient plant of the mint family and a cousin of marjoram. It is an essential in Italian cuisine, particularly for tomato and other long simmered sauces. The aroma remains pungent and the flavor is equally sharp, clean, and warm with just a slight bitterness.
It is best when the dried leaves are crushed or crumbled between your fingertips when adding to a dish. This will bring out the flavor during cooking.

Oregano is a versatile herb that pairs well with marjoram, sage, thyme, basil, garlic and onions.
 Our oregano comes from Turkey and is *Organic